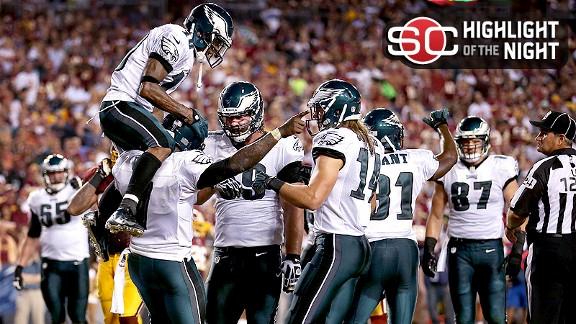 Chip Kelly already has a problem to fix.
If this is just a crazy Week 1 game, and not an indication of how the Eagles expect to play all season then the Eagles have a chance at making the playoffs. If Chip Kelly thinks this Eagles team can operate for an entire NFL season with a touch distribution as lopsided as Monday's game, it's likely he'll be disappointed.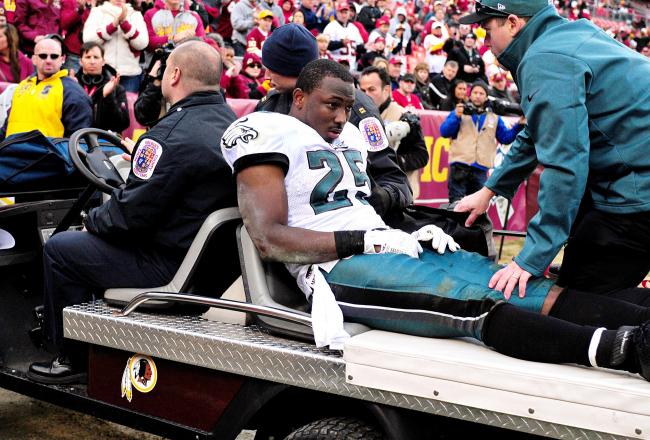 LeSean McCoy averaged around 21 touches per game in 2012. He had 31 tonight.
DeSean Jackson
has never averaged more than 4 catches per game since 2009. He had 7 catches tonight.
That's a lot of touches for the NFL's glass men. Each member of the trio has missed games due to injury in every season since 2010.
The Eagles are not deep enough to be the perfect fit for Chip Kelly's high volume scheme. Injuries to Jeremy Maclin and free-agent addition Arrelious Benn are partly to blame. With Bryce Brown on the roster, the Eagles appear to have depth at running back, but LeSean McCoy still gets the lion's share of the carries. Brown has had issues with ball-security in the past, and it's possible they still keep him off the field.
If his 9 carriers tonight is just a fluke, Vick should survive in this offense and is probably excited about only attempting 25 passes. In the previous years that Vick has been injured, he's averaged over 30 attempts per game. Vick could be the only Eagle that stays healthy this year.
Chip Kelly should reduce carries for Vick and McCoy and increase Brown's workload in future weeks. Jason Avant and Riley Cooper should have increased roles to reduce DeSean Jackson's touches. If Kelly can balance this offense, he has a team that could end up competing for a wild-card spot. If the depth players fail to get involved, he'll see more of the same from the fragile guys in Philly.
Rabble Rabble Gameplan: Look for a more balanced Philadelphia attack in coming weeks.