Steven is ready for Atlanta
S
teven Jackson is a grown man on a mission to
prove
age hasn't slowed him down one bit. The do-it-all back made a name for himself rushing for over 1,000 yards in eight of his nine seasons with the St. Louis Rams. He should be even more successful as a member of the Atlanta Falcons. Jackson has a rare skill set; he's a bruiser with soft hands. The only knock on Jackson is that he needs a lot of touches to produce. In the 10 games in 2012 where Jackson touched the ball 17 or more times, he averaged 11.8 fantasy points. In his 6 games with 17 or fewer touches, he only averaged 7 fantasy points.
Is there room in Atlanta's offensive game plan for Steven Jackson to get more than 17 touches per game?
Rabble Rabble Football: YES! Last season, Atlanta's running backs averaged around 27 touches per game. Fantasy coaches can safely assume that Jackson will at least get the 13.9 carries per game that Michael Turner averaged last season. One could argue that number will be even higher since Jackson won't have to come off the field on third downs. Jackson should also steal a chunk of the 84 receptions Jacquizz Rodgers and Jason Snelling had in 2012. It's conceivable that Jackson could finish somewhere north of 60 receptions in 2013. His hands are more than capable, as he caught 90 passes in 2006, making him a must-have in PPR formats.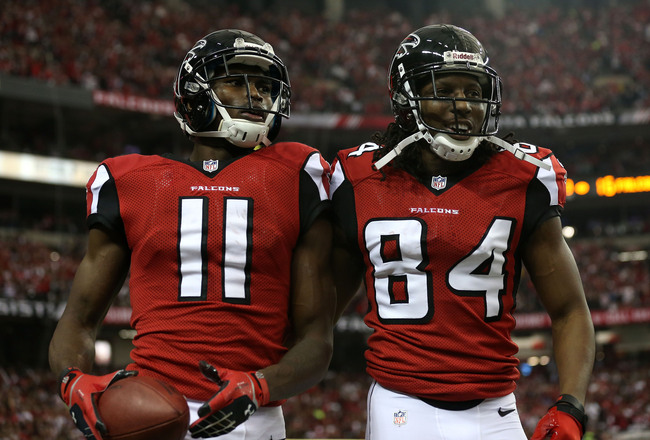 Matt, Roddy, Julio, Tony and Steven are going to be tough in 2013.
While Jackson only found the endzone 4 times last season, he should find a lot more endzones as a member of the talent-loaded Falcons. Despite being a non-factor in the passing game, Michael Turner hit pay dirt 10 times in 2012. Don't forget, Jackson played two games apiece against the Seahawks and 49ers last year. He's moving to a division with much friendlier defenses. The Saints' defense
can't stop a nosebleed.
RABBLE RABBLE FOOTBALL PERFORMANCE PREDICTION: 1100 Rushing Yards, 450 receiving yards, 60 receptions, 7 Total Touchdowns. 216 Fantasy Points (standard) More than enough to be a Top Ten Fantasy RB.